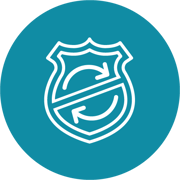 Software that makes lifesaving data available to officers and deputies when and where they need it and enables small and medium-sized agencies to manage daily operations
Information-gathering and sharing at the point of incident
Data entered on-scene is immediately available systemwide to all COPsync network subscribers, no matter where they're located–even if their agency uses a different records management system. COPsync also auto-saves information when you're in an area without cell service.


BOLOs and other alerts
Setting up "Be On the Lookout" alerts gives your officers crucial information about warrants and any special needs (such as mental disorders or health issues) before they arrive on scene.


Advanced search functionality to serve officers in the field
Quickly pull up driver's license, vehicle registration, NCIC, BOLOs and other alerts and data, including non-adjudicated information.


Write, file and manage citations and reports
Use COPsync to create citations as well as incident, offense, crash and monthly NIBRS compliance reports and criminal trespass warnings. The software is customized and updated with the laws and statutes relevant to your state or jurisdiction.



A secure in-car solution that seamlessly integrates with the rest of the Kologik network,

CAD (Computer-Aided Dispatch)

,

RMS (Records Management System)

and

JMS (Jail Management System)




UPGRADES
Citation Integration
Electronic transfer of citations issued by law enforcement officers

Explore Upgrades

Citizen Self-Reporting System
An easy-to-use, web-based tool that allows citizens to report minor crimes and incidents online
LETS (Law Enforcement Telecommunication System)
Obtain driver's license, vehicle and criminal information for all 50 states
NIBRS (National Incident-Based Reporting System)
Collect and report incident data with ease
Search
A robust search tool that aggregates results from local, state and federal resources to bring you the most comprehensive results available.
WARRANTsync
When Class C misdemeanor citations that have gone to warrant are entered into the COPsync network, any user will be notified if they come into contact with a violator.

"COPsync is one of the best tools out there. [It] is the single biggest improvement in my 20 years in law enforcement because it really does what we need in the field that we were never able to do before."
GET STARTED TODAY
Kologik software is purpose-built for small and medium-sized law enforcement departments to ensure you have the information you need to keep your officers and community safe.