By Chris Carden, Account Executive, Kologik
My former mentor and police chief would often use the popular quote from Debbi Fields, founder of Mrs. Field's Cookies, "good enough never is". The rest of that quote is "set your standards so high that even your flaws are considered excellent". What about those times when good enough actually "is"? Do some industries or providers of goods or services get a pass on this benchmark? Does the public call for resignations from workers in the restaurant industry when service or the food is below average? So, it seems this logic is flawed, sometimes "good enough" actually "is". Public safety is the exception when evaluating the "good enough" metric in our society. In today's public safety arena and specifically, law enforcement, there's immediate judgement and persecution by the public because the "good enough" metric is never obtainable.
It has always amazed me how local government forces police leaders into this crazy game of wait and see when it comes to budgeting. When an event garners national attention, Agencies have a narrow window of opportunity to seek approval for those expensive purchases that can have an impact on officer safety as well as the safety of the communities you serve. The demand from local leadership is always to be more proactive and be in a position to prevent crime instead of being forced into solving it. However, when it comes to funding and being proactive to assist law enforcement with what they need; sometimes good enough is just that, "good enough".
When I first started my law enforcement journey there was no such thing as computer aided dispatch or records management systems that I was aware of. We went to calls for service, wrote an incident / offense report and turned it in to the dispatcher. If the chief wanted response times, data analytics, or anything outside of the information on the report he or she had a couple options -- ask the officer and check the radio log. When CAD and RMS systems started becoming more prevalent, they were very basic in the data they provided, but they were an improvement from checking paper logs and getting officers to write statements. These same legacy systems are still in place throughout law enforcement with various costs. However, I would question a local government about the unseen, non-forecasted, or impending costs associated with having technology that is outdated and only "good enough".
Long gone are the days of storing servers in a closet and forgetting about them until they stop working because they are old and unsupported. Can you imagine having to tell the U.S. Department of Justice that you can't pull historical data because you were storing data on an old server and the data was damaged or maybe unretrievable? Public safety leaders need to be in the face of their local government demanding more funding to protect their jurisdictions, because good enough never is! Leaders need to explain to their local politicians that while funding the garden club is great, it's not going to go very far when you're sitting across the table from an Assistant U.S. Attorney signing a consent decree. This situation will culminate in the city spending hundreds of thousands of dollars to modernize their technology after the fact.
Nowadays we have secure cloud-based solutions that can transform the way public safety conducts business. These solutions are advanced, reliable, continuously updated, and are setting the standard in the technological space for law enforcement. If your agency is using a server-based system they bought fifteen years ago and the only reason they haven't upgraded is because of costs, you're headed for trouble. Share with your leadership that this shift will cost more but it will bring your agency into the 21st century and bring your capabilities well past "good enough".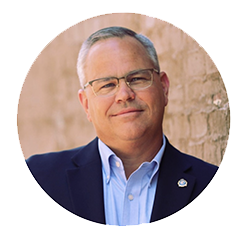 Chris Carden
Chris M. Carden is an Account Executive with Kologik and has over twenty-five years of law enforcement experience. Additionally, Chief Carden is a Certified Police Chief, Certified Law Enforcement Executive, and a graduate of the 215th Session of the FBI National Academy.